On March 10, 2011 12:58 Have 5.8 Magnitude Of Earthquakes In The YunNan YingJiang, The Epicenter Located At Latitude 24.7 N, Longtitude 97.9 E, The Depth Of Origin The Approximately 10 Kilometers.
Up To March 10 23:30, 5.8 Magnitude Of Earthquakes Which The Yunnan Yingjiang Occurred Already Caused 25 Dead, 250 Injured, 134 Injured.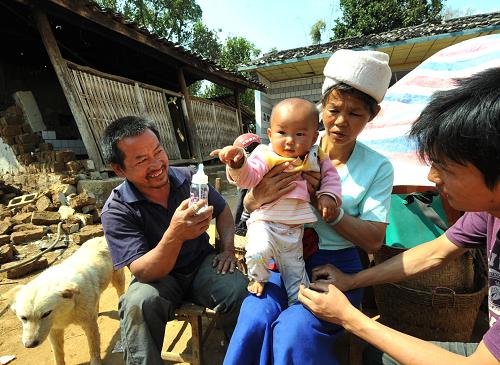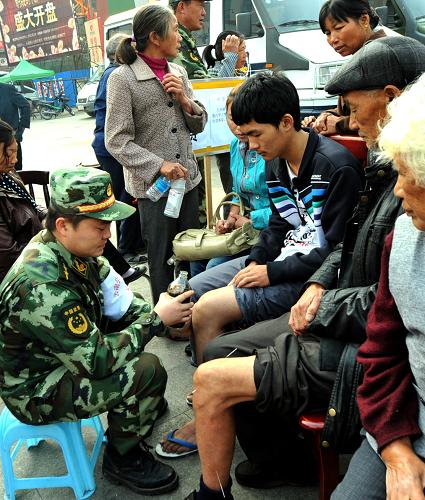 Treats For The Disaster-Stricken People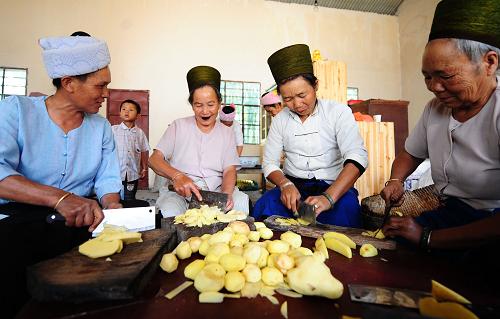 In The Early Morning Do Food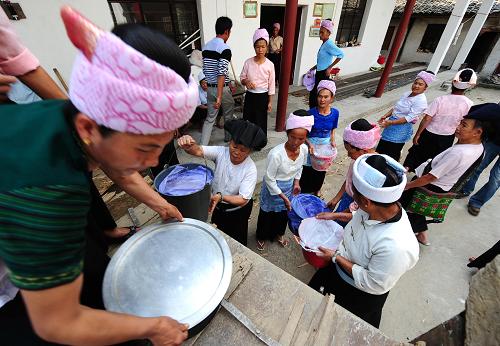 The Food Will Be Ready To Carry On The Tractor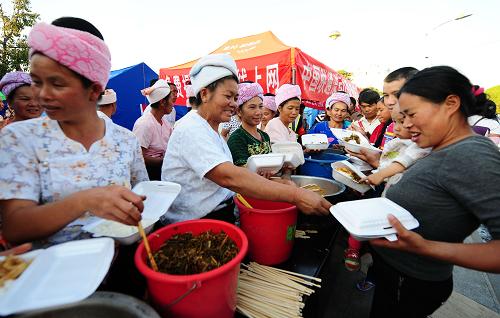 Free Provide
Sympathy Soldiers
A Beauty Salon, The Temporary Cessation Of Business Provides The Free Board And Lodging To The Earthquake Wounded And The Family Member.
XiangCunHuaYuan,Every Day For Disaster Victims Free Provide Food.
Free Report Peaceful
About Me
CTU, SC, China
I Want Fly In The Sky
View my complete profile

Links

Picasa Albums

Blog Archive

ClickTracker

New Article List
Spring Lantern Festival

-

Spring Lantern Festival Is An Important Part Of Spring Festival Of China's Traditional Festival, And Marks The Official End Of The Long Holiday. It Is Su...

4 months ago

JustLinks

Labels
China
(24)
Pic
(17)
2008
(13)
Google
(9)
HandNote
(9)
Code
(8)
Tibet
(6)
Chinese
(5)
Japan
(5)
Joke
(5)
Picture
(5)
War
(5)
Ancient
(4)
BeiJing
(4)
C++
(4)
HelloWorld
(4)
History
(4)
Logo
(4)
Microsoft
(4)
News
(4)
Olympic
(4)
Program
(4)
Russia
(4)
TaiWan
(4)
Truth
(4)
Anniversary
(3)
Art
(3)
Character
(3)
EarthQuake
(3)
Fire
(3)
Flag
(3)
Han
(3)
Happy New Year
(3)
Jotting
(3)
Movie
(3)
Poster
(3)
Qing
(3)
Red
(3)
SiChuan
(3)
Spring Festival
(3)
Urumqi
(3)
XinJiang
(3)
Yahoo
(3)
1279
(2)
1937
(2)
2009
(2)
BaiDu
(2)
Beginner
(2)
Bird Nest
(2)
C
(2)
Cartoon
(2)
Culture
(2)
Fairy
(2)
Faith
(2)
FeiTian
(2)
Film
(2)
Flame
(2)
Friend
(2)
Germany
(2)
Global
(2)
HeiXiaZi
(2)
HuangYan
(2)
Indian
(2)
Kublai Khan
(2)
KungFu
(2)
MM
(2)
Massacre
(2)
Mouse Year
(2)
Muslim
(2)
Nanking
(2)
Nationality
(2)
New Year
(2)
Note
(2)
Olympic Games
(2)
Overseas
(2)
Painting
(2)
Peaceful
(2)
Philippine
(2)
Protest
(2)
Python
(2)
Rocket
(2)
SMS
(2)
Snake
(2)
South China Sea
(2)
Tang
(2)
Tencent
(2)
Test
(2)
Uyghur
(2)
View
(2)
WW II
(2)
Weapon
(2)
WenChuan
(2)
Winner
(2)
XiongNu
(2)
1860
(1)
1863
(1)
1949
(1)
30th
(1)
512
(1)
56
(1)
APEC
(1)
Advertisement
(1)
Aethereally
(1)
Aircraft
(1)
Amorous Feelings
(1)
Anchor
(1)
Antarctica
(1)
Apple
(1)
Apsaras
(1)
Arab
(1)
Arbor Day
(1)
Argentina
(1)
Armor
(1)
Artist
(1)
Artistic
(1)
Assam
(1)
Astronaut
(1)
Atlas
(1)
Attacks
(1)
Australian
(1)
BBC
(1)
BS7H
(1)
Battle
(1)
Bear
(1)
Beautiful
(1)
Beauty
(1)
Bing
(1)
Birthday
(1)
Blue
(1)
Bone
(1)
Brick
(1)
Brief Einer Unbekannten
(1)
Britain
(1)
Building
(1)
Bus
(1)
CASC
(1)
CCCP
(1)
CIA
(1)
CN
(1)
CNN
(1)
CNNIC
(1)
CZ-2F
(1)
Calligraphy
(1)
Cat
(1)
Celebration
(1)
Ceremonial
(1)
Chalk
(1)
Challenge
(1)
Chaotic
(1)
CharacterPicture
(1)
Charm
(1)
ChenShuiBian
(1)
ChengDu
(1)
ChiBi
(1)
Chongli
(1)
Chopsticks
(1)
Citizen
(1)
Clothes
(1)
Clothing
(1)
Collection
(1)
Complex
(1)
Computer Virus
(1)
Concept
(1)
Concern
(1)
Convert
(1)
Crazy
(1)
Creativity
(1)
Crime
(1)
Crocodile
(1)
Cultural
(1)
Curse
(1)
Custom
(1)
DNS
(1)
DXCC
(1)
DaLai
(1)
Dance
(1)
Decennial
(1)
Decode
(1)
Demonstration
(1)
Distance
(1)
DongGuan
(1)
Doodle
(1)
Door
(1)
DuanWu
(1)
Dumb
(1)
DunHuang
(1)
EEZ
(1)
Earth
(1)
East Timor
(1)
Ejection
(1)
Entertainer
(1)
Ethnic
(1)
Event
(1)
Experience
(1)
Eyes
(1)
False
(1)
Farther
(1)
Fashion
(1)
Feelings
(1)
Festival
(1)
Fierce
(1)
Fifth
(1)
Fighter
(1)
Fireworks
(1)
First
(1)
Flash
(1)
Flying
(1)
Flying Air
(1)
Fonts
(1)
Foreordination
(1)
Foto
(1)
Free
(1)
G.cn
(1)
GB2312
(1)
Gaffe
(1)
Game
(1)
Games
(1)
Gathering
(1)
Ghost Different
(1)
Glib
(1)
Goa
(1)
Gorgeous Dance
(1)
Grampus
(1)
GuGe
(1)
GuangDong
(1)
Guantanamo
(1)
GuiYang
(1)
GuoShouJing
(1)
HanFu
(1)
Hanoi
(1)
HeiLongJiang
(1)
HongKong
(1)
Hope
(1)
HuaXia
(1)
HuiHu
(1)
Humanity
(1)
Humorous
(1)
Humpback
(1)
HuoQuBing
(1)
IM
(1)
IRAQ
(1)
Idiom
(1)
Independence
(1)
Infected Art
(1)
Injury
(1)
Input-Soft
(1)
Iran
(1)
Iraqi
(1)
Islam
(1)
Italy
(1)
Ivan
(1)
Japanese
(1)
Jest
(1)
JiangWen
(1)
JiuQuan
(1)
John Rabe
(1)
John Woo
(1)
Journey
(1)
Kangaroo
(1)
Kerosene
(1)
Knight-Errant
(1)
Korean
(1)
LangShiNing
(1)
Laundering
(1)
Learn
(1)
Legend
(1)
Leopard
(1)
Les Schtroumpfs
(1)
Letter From An Unknown Woman
(1)
Lhamo
(1)
LiaoYingTing
(1)
Lib
(1)
Library
(1)
Life
(1)
Lines
(1)
LiuQiu
(1)
Live
(1)
Localization
(1)
Looong
(1)
Loser
(1)
Lovable
(1)
LoveStory
(1)
Lovely
(1)
MSN
(1)
Magnificent
(1)
Mainland
(1)
Malvinas
(1)
Manipur
(1)
Map
(1)
Max Planck
(1)
Media
(1)
Meets
(1)
Meghalaya
(1)
Memory
(1)
Midway
(1)
Milan
(1)
Military
(1)
Mirage
(1)
Miss
(1)
Mistake
(1)
Mistakes
(1)
Mizoram
(1)
Mobile
(1)
Model
(1)
Money
(1)
Monglia
(1)
Monkey
(1)
Mourns
(1)
Mouse
(1)
Mural
(1)
NAVY
(1)
NBA
(1)
NaBa
(1)
NanJing
(1)
NanSha
(1)
NanTou
(1)
Nation
(1)
National Geographic
(1)
National Geography
(1)
Natural
(1)
Nazi
(1)
Nearer
(1)
Odor
(1)
OilPaint
(1)
Opening Ceremony
(1)
Or
(1)
Orca
(1)
Origin
(1)
Ottoman
(1)
Pacific War
(1)
Painter
(1)
Paladin
(1)
Panchen
(1)
Panda
(1)
Parade
(1)
Parrot
(1)
Party
(1)
Past
(1)
Peace
(1)
Peach
(1)
Penguin
(1)
People
(1)
Photograph
(1)
Photography
(1)
Pics
(1)
Picturesque
(1)
Pigs
(1)
PinYin
(1)
Plan
(1)
Plant
(1)
Poem
(1)
Poet
(1)
Prejudice
(1)
Press
(1)
Project
(1)
Pronunciation
(1)
Province
(1)
QQ
(1)
QianXueSen
(1)
QuYuan
(1)
Quake
(1)
RMB
(1)
Raids
(1)
Reason
(1)
Rebecca Williams
(1)
Recursive
(1)
Red Cliff
(1)
RedFlag
(1)
Reform And Opening Up
(1)
Relay
(1)
Religion
(1)
Report
(1)
Return
(1)
Revelation
(1)
Revolution
(1)
Rice
(1)
RouRan
(1)
Rumor
(1)
SZ-7
(1)
Sacrifice
(1)
Salty
(1)
Satellite
(1)
Save
(1)
Schindler
(1)
Scientist
(1)
Search
(1)
Search Engine
(1)
Separat
(1)
Serious
(1)
ShangHai
(1)
ShaoGuan
(1)
ShuiHuZhuan
(1)
Sikkim
(1)
Silk Road
(1)
Simple
(1)
Singapore
(1)
Sinking
(1)
Sino
(1)
Snow
(1)
SoSo
(1)
Socialist
(1)
Software
(1)
Sohu
(1)
Song
(1)
South Pole
(1)
Soviet
(1)
SpaceWalk
(1)
Specimen
(1)
Spring Festival Party
(1)
Sscanf
(1)
Stamp
(1)
State
(1)
Stefan Zweig
(1)
Stirring
(1)
Strcpy
(1)
Street
(1)
String
(1)
SuShi
(1)
Sui
(1)
Survivor
(1)
Sweet
(1)
Sword
(1)
Syringe
(1)
TV
(1)
TVBS
(1)
Taikonaut
(1)
Talas
(1)
Ten
(1)
Territory
(1)
Terrorist
(1)
Three Kingdoms
(1)
Three Links
(1)
TianAnMen
(1)
Tibetan
(1)
Tiger
(1)
Timeline
(1)
Today
(1)
Torch
(1)
Transportation
(1)
Trautmann
(1)
Travel
(1)
Trees
(1)
Tripura
(1)
Troubles
(1)
Turkey
(1)
Turkic
(1)
US
(1)
USAF
(1)
USSR
(1)
Universe
(1)
Uygur
(1)
Valueless
(1)
Vectograph
(1)
Vector
(1)
Victim
(1)
Video
(1)
Vietnam
(1)
Violence
(1)
Wallaby
(1)
Watch
(1)
Water Cube
(1)
WaterMargin
(1)
Web
(1)
West
(1)
Whale
(1)
Wheat
(1)
White Clothing
(1)
Winnie
(1)
World
(1)
WuSong
(1)
WuSuLi
(1)
WuXi
(1)
XiYu
(1)
Xia
(1)
XuJingLei
(1)
XueDiZi
(1)
YanXingShi
(1)
YaoMing
(1)
Year
(1)
YoDao
(1)
YuHangYuan
(1)
Yuan Dynasty
(1)
Zebra
(1)
ZhangYiMou
(1)
ZongZi
(1)
iPhone
(1)