Joan Hinton Chinese Name Hán Chūn,Who Died At The Age Of 89 Earlier This Week,On 8 Jun 2010.
Joan Chase Hinton Was Born On Oct. 20, 1921, In Chicago. Her Father, Sebastian Hinton, Was A Patent Lawyer Who Invented The Jungle Gym In 1920. Her Mother, Carmelita Chase Hinton, Founded The Putney School, A Progressive Coeducational Secondary School In Putney, Vt.. Joan Hinton's Great-Grandfather Was The Mathematician George Boole; Ethel Lilian Voynich, A Great-Aunt, Was The Author Of The Gadfly.

Joan Hinton,A US-Born Scientist Who Was A Nuclear Physicist And One Of The Few Women Once Worked On The Manhattan Project In Los Alamos To Work On Developing The First Atom Bomb In 1945 That She Just 23-Year-Old, Now Runs A Dairy Farm North Of BeiJing Working Extensively In Agriculture.

Joan Hinton Studied Physics At Bennington College And The University Of Wisconsin.She Observed The Trinity Test At Alamogordo And Wrote About It:
"It Was Like Being At The Bottom Of An Ocean Of Light. We Were Bathed In It From All Directions. The Light Withdrew Into The Bomb As If The Bomb Sucked It Up. Then It Turned Purple And Blue And Went Up And Up And Up. We Were Still Talking In Whispers When The Cloud Reached The Level Where It Was Struck By The Rising Sunlight So It Cleared Out The Natural Clouds. We Saw A Cloud That Was Dark And Red At The Bottom And Daylight At The Top. Then Suddenly The Sound Reached Us. It Was Very Sharp And Rumbled And All The Mountains Were Rumbling With It. We Suddenly Started Talking Out Loud And Felt Exposed To The Whole World."

Joan Hinton Was Shocked When The US Government, Three Weeks Later, Dropped Nuclear Bombs On Hiroshima And Nagasaki. She Left The Manhattan Project And Lobbied The Government In Washington To Internationalise Nuclear Power.

Hiroshima Memorial , 2008.8

Ms. Hinton Thought That The Bomb Would Be Used For A Demonstration Explosion To Force A Japanese Surrender. After The Bombings Of Hiroshima And Nagasaki, She Became An Outspoken Peace Activist. She Sent The Mayors Of Every Major City In The United States A Small Glass Case Filled With Glassified Desert Sand And A Note Asking Whether They Wanted Their Cities To Suffer The Same Fate.

In 1948, Alarmed At The Emerging Cold War, She Gave Up Physics And Left The United States For China, Then In The Throes Of A Communist Revolution She Wholeheartedly Admired. "I Did Not Want To Spend My Life Figuring Out How To Kill People," She Told National Public Radio In 2002. "I Wanted To Figure Out How To Let People Have A Better Life, Not A Worse Life."

Joan Hinton & Erwin Engst
1949 April , ShanBei

In China She Met Her Future Husband, Erwin Engst, A Cornell-Trained Dairy-Cattle Expert, Who Went On To Work On Dairy Farms As A Breeder While She Designed And Built Machinery. During The Cultural Revolution, They Were Editors And Translators In BeiJing.

Ms. Hinton Applied Her Scientific Talents To Perfecting A Continuous-Flow Automatic Milk Pasteurizer And Other Machines. For The Past 40 Years, She Worked On A Dairy Farm And An Agricultural Station Outside BeiJing, Tending A Herd Of About 200 Cows.
During The Mccarthy Era, Ms. Hinton's Name Surfaced As A Possible Spy And Spiller Of Nuclear Secrets After She Spoke At A Peace Conference In BeiJing. Rear Adm. Ellis M. Zacharias Denounced Her In A 1953 Article For Real Magazine Titled "The Atom Spy Who Got Away."

During The Cold War, Some Americans Considered Her To Have Betrayed The United States, As A Nuclear Physicist Who Went To China And Took Part In Its Revolution. However, What Most Americans Did Not Realize, According To Hinton, Is That She And Her Husband Were Working In Agriculture On A Tiny Commune In A Remote Part Of China, Without Electricity Or Even Radios.
In A 1996 Interview With CNN, After Nearly 50 Years In China, She Stated "[We] Never Intended To Stay In China So Long, But Were Too Caught Up To Leave." Hinton Described The Changes She And Her Husband Had Witnessed In China Since The Beginning Of The Economic Reforms Of DengXiaoPing In The Late 1970s. They Stated They "Have Watched Their Socialist Dream Fall Apart" As Much Of China Embraced Capitalism. A 2004 MSNBC Interviews Noted Her Critical Assessment Of Economic Change As "Betrayals Of The Socialist Cause."She Noted What She Describes As A Rise Of Exploitation In Chinese Society.

Hinton Lived Alone Following The Death Of Her Husband In 2003. Her Three Children Moved To The United States, With Hinton Noting That "They Probably Would Have Stayed If China Were Still Socialist." Hinton Retained Her American Citizenship, 2004 September 22,She Get A First "China Green Card" In BeiJing,ID "USA110021102000".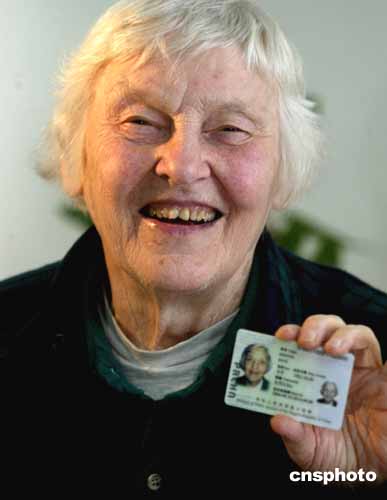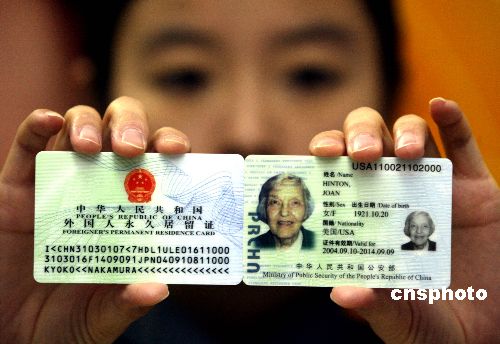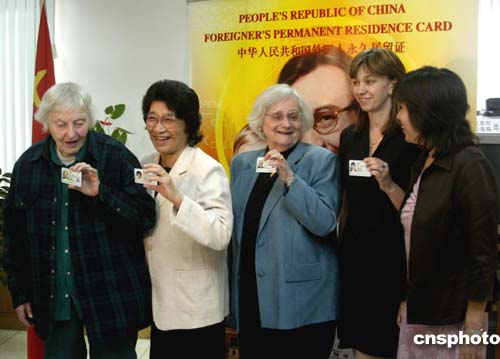 In Her 2005 Essay "The Second Superpower",Hinton Stated, "There Are Two Opposing Superpowers In The World Today: The U.S. On One Side, And World Public Opinion On The Other. The First Thrives On War. The Second Demands Peace And Social Justice."

She Remained Active In The Small Community Of Expats In BeiJing, Protesting Against The War In Iraq.

She And Her Husband True Believers In The Maoist In All Life.

"It Would Have Been Terrific If Mao Had Lived," Ms. Hinton Told The Weekend Australian In 2008 During A Trip To Japan. "Of Course I Was 100 Percent Behind Everything That Happened In The Cultural Revolution — It Was A Terrific Experience."


Joan Hinton Has Spent More Than 60 Years In China,All Her Three Children Are In The US, But She Refuses To Leave."China Has Already Become My Second Hometown. Now, My 200 Cows Are My Best Friends And My Greatest Concern. I Am Already 88 And Want To Do Something For The Dairy Farm For The Rest Of My Life." She Says.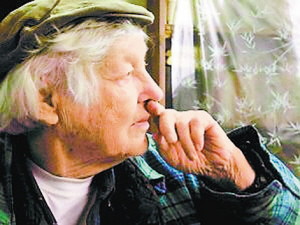 GoodBye Joan Hinton ...
Wish Both Of You Happy And Peace In The Heaven, Chinese People Appriciate Your Contribution. You Make Man Known What Is The Purpose Of The Life, Thank You!