The People's Education Press Latest English Book
In The New English Textbooks,LiLei And HanMeiMei Once Again Become Protagonist.
HanMeiMei Married,But Not With LiLei.
In The New English Book, HanMeiMei Turned Ms Han.She Married With New People-HanGang。Two Children One Calls HanKeKe,One Calls HanXiXi.And LiLei,Become A Teacher,Wears Glasses.
1990~2004 PEP Junior English Book
LiLei And HanMeiMei Is In Teaching Material's Two Virtual Actors,This Material Use By Most Schools In National Wide. Some People Estimated That The Used Population Accumulation Reaches As High As Over A Hundred Million People.
Junior English For China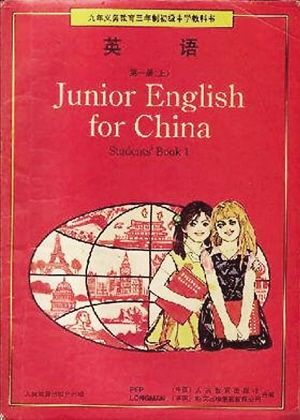 The Material's Story Creates By The British Longman Publishing Group's Grant. Use Family Model,The Final Design Britain's Green Family, Canada's Read Family; US's King And Smith All Four Families,And Join From China's LiLei、HanMeiMei 、LinTao、Miss Gao(GaoHui)And Uncle Wang,The Story Started.
LiLei:Hello!Where Are You Going,HanMeiMei?
HanMeiMei:Hi,LiLei.I`m Going To School.
LiLei:Oh,I`m Going To School,Too.
HanMeiMei:Let`s Go To School Together !
"No News Is Good News!"
"Polly,Can You Spell It's Name?"
"Yes,I Can.P-O-L-L-Y."
... ...
Collective Memory
Now,In New Material LiLei And The HanMeiMei's Story Had The Official Result,HanMeiMei Has Not Married With LiLei. Has Studied This Material's People Collective Disappointedly, Sad, Recollection, As The Tide Rushes Flooded To Web. Millions Of People Discuss And Express Are Discontented In The Internet. Now,Every School Have Different English Book,Later Will Be Never Have Collective Memory Again.
New Material's Story Result Causes The Millions People Collective Lovelorn.Their Are Careful Found That HanMeiMei's Children Named KeKe And XiXi,"KeXi" Has Regrettable Meaning In Chinese.
It Is Said That The Ministry Of Education Does Not Advocated The Puppy Love In The Teaching Material.All Students Should Good Good Study Day Day Up In School.
And The Last Week,Peking University Conducted Debates,The Topic Was "LiLei And HanMeiMei Should In Together ?"
More People In All Kinds Commemorations In The Internet.
Business Development Creative
Some Commodities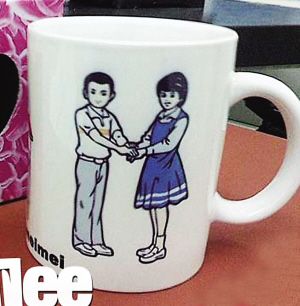 The Giordano Also Promoted LiLei & HanMeiMei Limited-Edition T-Shirts,Global Limited Distribute 2,000.
Video:Song Of LiLei And HanMeiMei
Video:Collective Memory (Chinese) http://v.youku.com/v_playlist/f3434583o1p0.html
Whenever I Felt Lonely Or Is Arid, I Would To Flip The Schoolfellow To Record Pages Of Page Of Turning, Recollection Junior Middle School's These People, These Matters.
Originally,We Really Already Could Not Go Back.
Search Engine