Saw This Cup, You Knew When It Is?
1920?1950?1980?2009? No,All ...

Actually, It Is China During The Warring States Period, About 475-221 B.C., Since More Than 2000 Years!
This Cup In 1990 Unearthed In ZheJiang Province, HangZhou ,BanShan Town ,ShiTang Village, Warring States Grave.
  Cup Height 15.4 CM, Caliber 7.8 CM, Bottom Diameter 5.4 CM. Opens The Mouth Even Lip, The Cup Wall Slanting Assumes The Loudspeaker Shape Straight, The Dedendum Line, Encircles Outside The Foot To Cast Aside, Resembles The Drinking Glass Which Today We Use. The Cup Body Usually Was All Over The Body Succinct, Does Not Have The Decorative Design In A Utensil Transparently, Entire Slightly Has The Pale Amber Brown, The Table After The Polishing Treatment, Middle And The Base Has The Sponge Body Shape Nature Crystallization.
  This Cup Is The Treasure Which Makes With The Entire High Quality Natural Crystal Block With The Precious Vessels,Domestic Rare. It Is Not Only Until Now In Our Country Unearthed Early Time Crystal Product Shape Biggest One, Speaking Of Its Manufacture Skill And Technological Level, Solid Impressive, Endures For The Unequalled Valuable Thing.
  This Cup Presently Collects In The HangZhou History Museum.


BaiDu BaiKe:Crystal Cup http://baike.baidu.com/view/765100.htm?fr=ala0

It Is Said That This Is China One Of 64 Most Precious Relics Finds Forbids To Go Abroad Display.
WenBao.Net
China 64 Relics Forbidden To Abroad http://www.wenbao.net/html/whyichan/64th/16shuijingbei.htm

Crystal Ring , Spring And Autumn Period
Has The Cotton Wool Shape Crystal Partially, The Contour Presents The Wide Under Narrow Cylinder Shape, The Table Light Corpuscle, Ponders Over All Over The Body Smoothly, Polishing Is Fine. The Endophragm Is The Two-Sided Punches, Each Diagonal Rubs The Releasing Mark Inward, Has The Arris. This Crystal Link Has The Excellent Drill Hole Technology And The Exquisite Polishing Craft. On This Kind Of Jade Utensil Ponders Over The Sharp Arris The Craft In Spring And Autumn Period, The Warring States Time To Be In Vogue, Specially In Some Jade, The Link, The Bead, The Tubular Play The Part And So In The Utensils To Make The Sharp Arris, This Kind Of Technique For The Spring And Autumn Period Time's Craft Characteristic, Simultaneously Also Identified During The Spring And Autumn Period Time Jade And Divides Into Periods.


The Han Dynasty Crystal Sword Adorn.

NanYue King Grave Unearthed Set Of Six Abundant Chesses .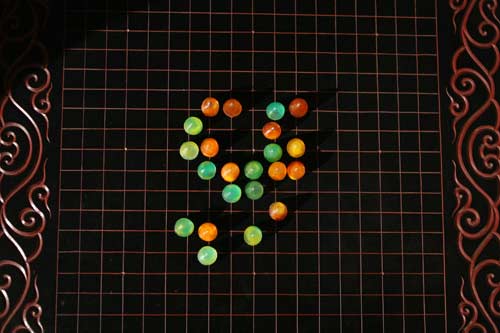 ShanXi Province FuFeng County FaMen Temple Crystal Outer Coffin, Tang Dynasty.
FaMen Temple Crystal Pillow.

SuiQiu In 1987 ShanXi FuFeng County FaMen Temple Tang Dynasty Mausoleum Chamber Unearthed .
Four-Petal Crystal Cup Of Liao Dynasty.
The Crystal Bottle With Pines, Bamboos And Plums (Qing) .

The Tang Dynasty FaMen Temple's Faint Yellow Colored Glazed Bottle, Should Be Glass Products Predecessor .