Recently Kirghiz Had The Riots.But For Many Chinese,To This Strange Neighboring Country,Was Known By The Birthplace Of LiBai.
Bishkek DengXiaoPing Avenue Stele 1996/6
In Bishkek, The Most People Didnot Know That Who Is LiBai. Is More Familiar To DengXiaoPing,Because Bishkek Has A 5 Kilometers Of "DengXiaoPing Avenue".
Often Asked By LiBai As Great As DengXiaoPing?For Chinese Most Of People Know That DengXiaoPing,However All People Know LiBai.
LiBai - China's Greatest Poet.
Tokmok
Tokmok 
Tokmok
  Tokmok Is Kyrgyzstan's Third Largest City, Has More Than 20 Ten-Thousand People.
Tokmok
  DongGan/Dungan Is Original Life In China's ShaanXi, GanSu, NingXia Hui People. Because Of Historical Reasons, They Stay Kyrgyzstan And Maintaining Chinese Tradition Until Now.
DongGan Hui People
DongGan Huis
  Lives In The Local DongGan Person Also Has Remembered That Some About LiBai And Poetry In Memory.
SuiYe/Suyab Ruins
  SuiYe City Set In AD679.LiBai Was Born In SuiYe City On February 8,AD.701. At The Same Time, The Central Government Stationed Garrisons In QiuCi, YuTian, ShuLe And SuiYe (Formerly YanQi), Which Were Known As The Four Garrison Commands Of AnXi.
SuiYe City Ruins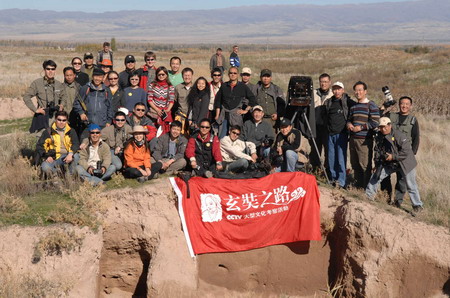 The More And More Chinese Goes To Tracks Down The Birthplace Of LiBai.   
Until 1982 In Ak-Beshim Unearthed Chinese Written Stele, Just Confirmed That Ruins Are The SuiYe City.This Stele Is Collected In St. Petersburg's Hermitage Museum Now.
After In 1757 The Qing Defeated ZhunGeEr,Many ELuTe And Kirghises Come Here Nomadic. On October 7,1864, Tsarist Russia Forced The Qing Government To Sign China And Russia Northwest Boundary Treaty,Forcefully Ceded XinJiang Western 440,000 Square Kilometers Territories, Includes SuiYe City And Nowadays Kyrgyzstan's Majority Of Territories.