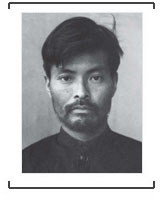 Kiyoshi Shimosaka
Abstract Of The Written Confessions In English
Kiyoshi Shimosaka(下坂清)
Japanese World War II soldiers burned Chinese civilians, including women and children, to death, according to a war criminal whose confession to scores of murders and rapes was published by the State Archives Administration (SAA) on Wednesday.
In the ninth of a series of 31 confessions from Japanese war criminals published on the SAA website as China marks the 70th anniversary of the end of WWII, Kiyoshi Shimosaka detailed his brutality in China between 1940 and his capture in August 1945.
According to the 1954 confession, Shimosaka, born in Hiroshima Prefecture, Japan in 1919, together with one companion, barricaded a 30-year-old Chinese woman and her two sons, aged seven and four, in a house and lit straw with a match in May 1940 in Suixian county, Hubei province. They burned down the house, killing the mother and sons.
According to Shimosaka, his companions killed three captives "in order to see how sharp the katana was".
He also confessed to arresting a peasant aged around 30 and a woman of similar age in July 1940 in Hubei's Jingmen county. Together with companions, Shimosaka threatened them with a bayonet and forced them to have sexual intercourse, and "during the sexual intercourse, a companion bayoneted them at the back and killed them."
Shimosaka captured one peasant and used a 6-inch knife to stab him in the chest three times, thus cruelly killing him in August 1941 in Hubei's Jiangling county, according to the confessions.
From July 1941 to March 1942 in Jingmen county, he abused two Korean women aged around 20, 15 times each, he wrote.
Shimosaka and companions also "gang-raped" two Chinese women at a sentry post in Jiangling county in July 1942.
He wrote, in May 1943 in Yichang county, Hubei Province, together with one companion, he took a resident aged around 35 to the fields and used a katana to "behead him, then split his head in two."
His companion "took the victim' s brains" and "ordered another soldier to scorch the brains to make medicine from it," according to the confession.
In August 1944 in Yichang county, companions used eight residents as "live targets" in shooting and bayoneting training of 50 cadets of the regiment, thus brutally killing them all, he wrote.
The SAA is publishing a confession a day in the run-up to commemorations of the end of the war on Sept 3. The handwritten documents come complete with translations and abstracts in both Chinese and English.
The confessions detail crimes including murder, enslavement and poisoning of Chinese people, as well as the use of biological and chemical weapons on live human subjects.
The Original Text Of The Written Confessions
Translation Of The Written Confessions (Chinese)